Towing Services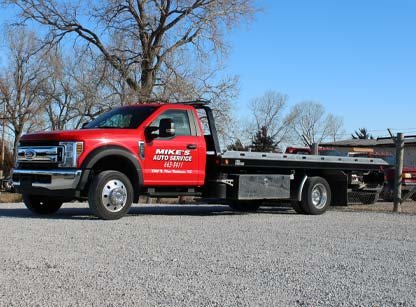 Whether you need a jump start or are experiencing an engine problem, a call to Mike's Auto Service will provide towing service by experienced drivers. We can tow your vehicle to your destination of choice or to our shop for quality repair. Call us at (620) 663-8411.
We Can Tow All Over Kansas
We are not limited to just towing in Hutchinson and the surrounding area. If you car breaks down in our town, we'll tow it to anywhere in Kansas. We have the trucks capable of safely hauling your vehicle to your town for repairs.
Available Any Time
Our towing service is available 24 hours a day, 7 days a week. We have a fleet of trucks that allow for peace of mind as we bring your car to our shop or to your hometown. We can tow your standard cars, SUV's and pick-up trucks.
What to Expect
When you contact us for towing service, you are calling a local, family-owned & operated shop whose primary job is to help people. We know it's stressful to have your vehicle towed and repaired, so our fee is nominal, and we will be transparent from the start. Call us today to get your vehicle safely towed, (620) 663-8411.